The New Hampshire Forum on the Future Breakfast Series focuses on the forces that face the state's future – economically, socially and culturally with respect to our education system, environment and historic traditions. The speakers and programs we host will make you think about the future of New Hampshire as a place to live and work.
If you are interested in being added to our mailing list please click here to contact Ann Tierno.
---
For information about past Forum on the Future Breakfasts, please go to our Breakfast Archives page.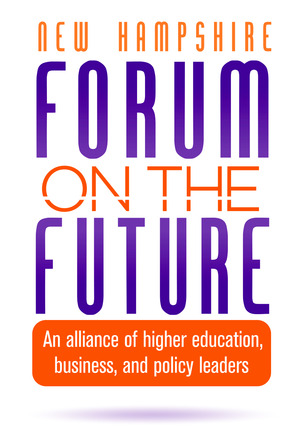 NH Businesses & Colleges Need Each Other
(An Update)
"It's a Question of Supply and Demand"
Tuesday, October 7, 2014
New Hampshire Institute of Politics
Saint Anselm College
8:00 AM to 10:00 AM
Breakfast Buffet Will Be Served 
Welcome:
Steven R. DiSalvo, President, Saint Anselm College
Update:
Steve Norton, Executive Director, New Hampshire Center for Public Policy
Special Guest:
Kelly Ayotte, United States Senator
Panel:
Joe Morone, President/CEO, Albany International
Bill Quinlan, President/COO, Public Service of NH
Barbara Couch, Vice President, Hypertherm
Dr. Todd Leach, Chancellor, University System of NH
Dr. Susan Huard, President, Manchester Community College
Closing Remarks:
Dean Kamen, Founder DEKA Research & Development
Currently the business demand in NH and nationwide for workers with college degrees exceeds the supply, especially in STEM fields (science, technology, engineering, math).  Seventy percent of NH's fastest growing are going to require a post-secondary degree.  What is it that businesses need from NH colleges and what are NH colleges delivering to meet those needs?  Some of NH's premier business and education leaders will speak candidly about this "supply and demand" issue and the progress that NH is attempting to make to close the skills gap.  And, Senator Kelly Ayotte will give us her perspective on the federal government's role in education going forward.
Premier Sponsors:
Charter Sponsors: