Breakfast Series
The New Hampshire Forum on the Future Breakfast Series focuses on the forces that face the state's future – economically, socially and culturally with respect to our education system, environment and historic traditions. The speakers and programs we host will make you think about the future of New Hampshire as a place to live and work.
If you are interested in being added to our mailing list please click here to contact Ann Tierno.
---
For information about past Forum on the Future Breakfasts, please go to our Breakfast Archives page.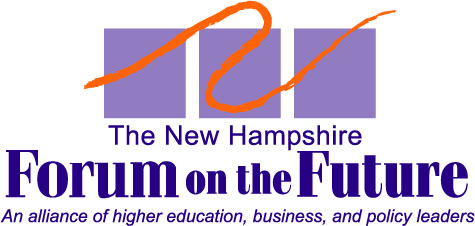 Please join us for a special NH Forum on the Future breakfast
"A Strategic Economic Plan for New Hampshire"
Tuesday, November 19, 2013
NH Institute of Politics at Saint Anselm College
Breakfast Buffet
Guest Panelists
Jim Roche, President, Business & Industry Assoc. of NH
Steve Norton, Executive Director, NH Center for
Public Policy Studies
Cotton Cleveland, President, Mather Associates
While New Hampshire is a good place for business and a good place to live, NH business leaders have expressed a growing unease about the direction of the State.  They are concerned that the good things we enjoy in New Hampshire happen more by chance rather than through thoughtful and intentional decision making.  In response to that unease by business leaders, the Business and Industry Association of New Hampshire, together with leaders from across the State, have developed a statewide strategic economic plan. That plan will be unveiled at this Forum, and will include a new economic development dashboard for the State along with 9 goals that can contribute to the State's economic future.
Premier Sponsors:
 

Charter Sponsors: