Breakfast Series
The New Hampshire Forum on the Future Breakfast Series focuses on the forces that face the state's future – economically, socially and culturally with respect to our education system, environment and historic traditions. The speakers and programs we host will make you think about the future of New Hampshire as a place to live and work.
If you are interested in being added to our mailing list please click here to contact Ann Tierno.
---
For information about past Forum on the Future Breakfasts, please go to our Breakfast Archives page.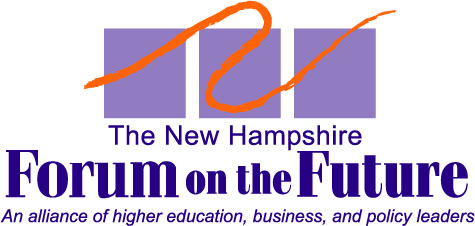 Please join us for a special NH Forum on the Future breakfast
The New Hampshire Civic Health Index:
Some Unexpected Findings
Thursday, March 20, 2014
8:00 AM to 9:30 AM
New Hampshire Institute of Politics
Saint Anselm College
Breakfast Will Be Served 
Speaker:
Dr. Bruce Mallory, Interim Director
The Carsey Institute at UNH
Panelists:
Richard Ober, President, NH Charitable Foundation
Peter Francese, Demographer/Author of "Communities & Consequences"
Molly Messenger, Community Outreach Coordinator, Pittsfield Listens
James Pindell, WMUR Political Director
New Hampshire citizens rank relatively high on several key indicators of civic health, including voter turnout, engagement at public meetings, and levels of education.  However, New Hampshire ranks last in the nation when it comes to donations to charitable organizations, and is on the decline for volunteerism.  Most vexing is that fewer citizens feel New Hampshire is headed in the right direction.
The Carsey Institute at the University of New Hampshire has published the New Hampshire Civic Health Index with some fascinating findings on civic health in our state, and its author, Carsey Institute Interim Director, Bruce Mallory, will brief the Forum on his findings and the implications for economic and social policies.
Panelists responding to his findings include the head of New Hampshire's leading charitable organization, the founder of American Demographics magazine and author of the book, Communities & Consequences, and a community leader working to engage her fellow residents on a key civic issue.
Premier Sponsors:
Charter Sponsors: