The New Hampshire Forum on the Future Breakfast Series focuses on the forces that face the state's future – economically, socially and culturally with respect to our education system, environment and historic traditions. The speakers and programs we host will make you think about the future of New Hampshire as a place to live and work.
If you are interested in being added to our mailing list please click here to contact Ann Tierno.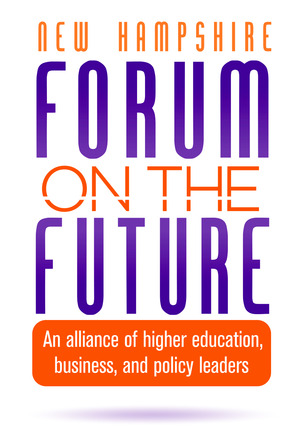 *New Report: "A Perfect Labor Force Storm" Brewing
*A 2016 Snapshot of NH's Workforce
*College for America's Workforce Vision

 Monday, June 27, 2016
NH Institute of Politics
Saint Anselm College
8:00 AM to 9:30 AM
Breakfast Buffet
Speakers:
Economist Brian Gottlob, Pres., PolEcon Research
Julian Alssid, Chief Workforce Strategist, College for America
Bruce DeMay, Director, NH Economic & Labor Market
 Information Bureau
If there's one word on the lips of most business, education and government leaders, it's "workforce."  The times in which we live are different, the business demand for talent is voracious, and the education and supply of that talent is insufficient to meet demand.  A new report from PolEcon Research points to "A Perfect Labor Force Storm" that's brewing with baby boomers retiring and slow labor force growth, creating productivity issues.  A 2016 snapshot of New Hampshire's workforce from the State's Bureau of Economic and Labor Market Information tells a story we should all hear.  And, College for America, based here in NH at Southern New Hampshire University is spreading a new vision of workforce across New Hampshire and the United States.   
Registration for this breakfast meeting is $25.00

If paying by check, please remit to: NHCUC at 3 Barrell Court, Suite 100, Concord, NH 03301

Click here for directions to the NH Institute of Politics, Saint Anselm College.
Premier Sponsors:
Charter Sponsors: